The Premier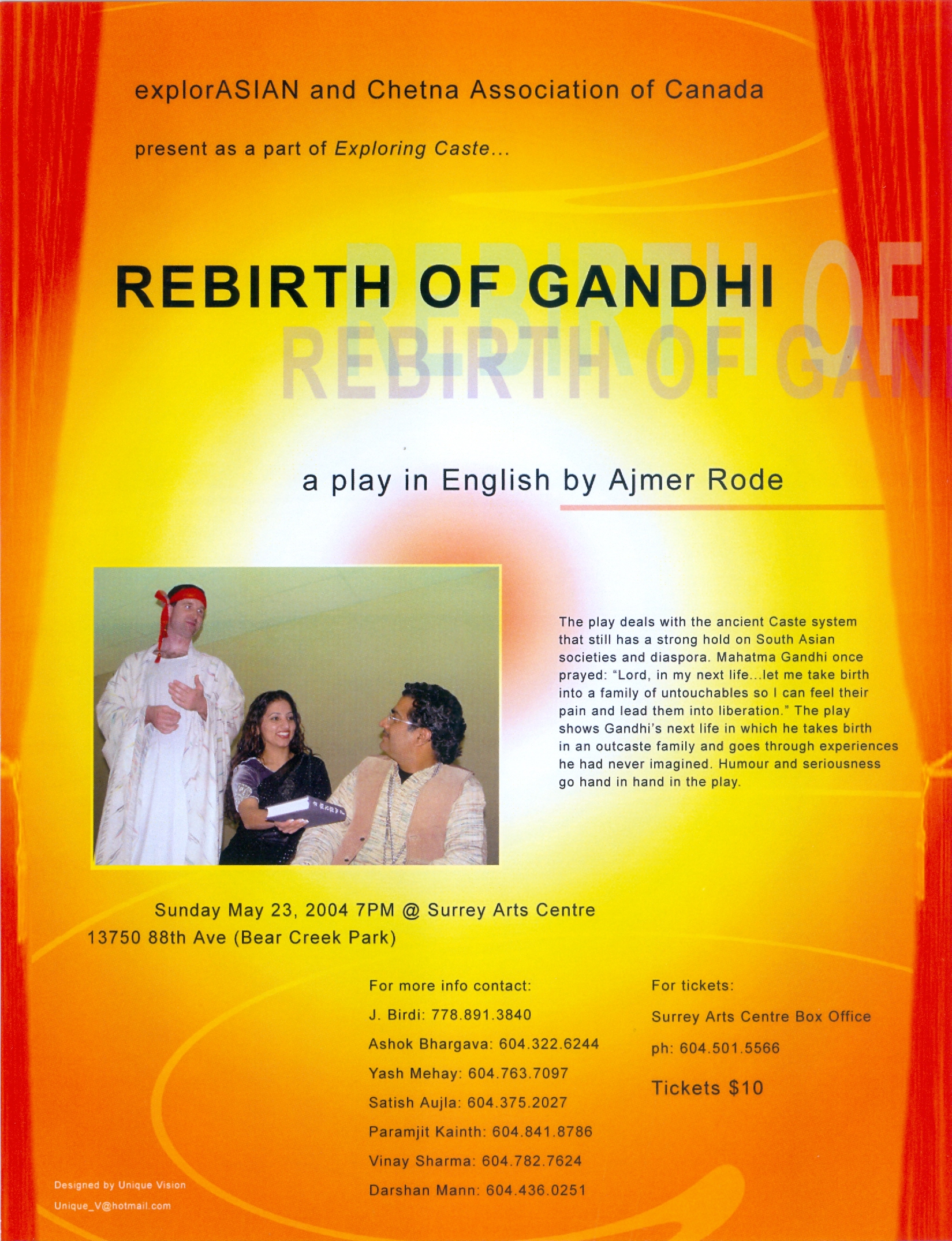 Rebirth of Gandhi was first produced jointly by exploreASIAN organizaton and the Chetna Association of Canada to a full house at Surrey Arts Center on 23 May 2004.  The play was written and directed by Ajmer Rode and produced  by Jai Birdy, president of Chetna Association. The performance was very successful.
The full length play in English deals with the complexities of the Indian caste system that still has a strong hold on South Asian societies and the South Asian diaspora. Mahatma Gandhi once prayed: "Lord, in my nest life let me take birth into a family of untouchables so I can feel their pains and lead them into liberation."  In the play the Mahatma does take birth in an outcaste family and
goes through experiences he had never imagined. Humor and seriousness go hand in hand in the play. Vishnu Datt Sharda, Mark Embacher, Darsh Preet Combow, Amrit Mann, Gurcharn Dua, Vinay Sharma, Ajmer Rode, Amrinder Mann acted in the play (in order of appearance on the stage). The play received good publicity and reviews in media (CBC, M chanel, Indo-Canadian Newspapers, TV and Radio stations).
Second Performance
The first act of the play was staged at the University of British Columbia (UBC) under a program organized by the World Peace Forum  on 24 June 2006. The play was staged in a UBC Chemistry Building room, and the limited space and the blackboard at the wall were skillfully used by the actors. The Gandhi role in this performance was played by Gurcharn Dua while the Yamdoot was played by Mark Embacher who acted the role in the Premier.  The audience seemed to enjoy the play immensely.
Third Performance
The first act of the play was performed on 21 August 2007 at Literature For Our Times an international conference organized by The Association for Commonwealth Literature and Language Studies (ACLALS) at their triannual conference held at UBC. The performance was part of a panel consisting (Arun Mukherjee, Jai Birdi, Kusma Satyanarayana and Ajmer Rode) on Dalit Awareness and Literature. The stage was a small platform in the room and the performance was adapted to suit it. The performance, to a full-room audience including scholars like Sivakami and Nandi Bhatia, went very well.  Later, Kusma Satyanarayana remarked that this was perhaps the best session of the 5-day conference.  
***
Selected dialogues from Rebirth of Gandhi
NEESHA:
Men of high culture: They adore young women
like colorful glass vases curving to the middle.
They decorate their houses with the vases
as they sprout little roses and lilies.
They use them abuse them discard them at will.
Glass pieces scatter, scratch, make holes,
and men of high culture go on living
with glass shards stuck deep in their souls…
NATHOO:
We want Bharat to shine like a golden star… like a centerpiece in the galaxy of nations…twenty first century belongs to India, my sister…imagine the collective intellect of a billion mind…the opening of a million scriptures, the rise of thousand chants…imagine our art our literature pulling the masses out of this decadent culture…into an era of our own pure and rich sanskriti…imagine…
KARMU:
When I say India will never rise as long as its feet are shakled by its caste system, NATHOO doesn't tolerate…when I say India will never shine if its face is spattered with muck of untouchability, he doesn't tolerate? How can we preach high morals to others… when one fifth of our own people are treated worst than animals? 
***
Caste aside
Writer Ajmer Rode's new play Rebirth of Gandhi will come to the Surrey Arts
Centre on May 23 as part of Asian Heritage Month celebrations.
By Sheila Reynolds
Staff Reporter, The Surrey Leader, May 14, 2007
New life is being breathed into the saying 'be careful what you wish for' in
an upcoming original play entitled the Rebirth of Gandhi heading to the
Surrey stage for its premiere next week.
Written and directed by Burnaby-based author Ajmer Rode, the satirical drama
shows Mahatma Gandhi's next life, when the gods grant him his desire to be
reborn into the lowest social class in Indian society so that he may feel
their pain.  While he attempts to convince those in his new life he is indeed Gandhi and  knows all about the peaceful political leader, nobody wants anything to do with him because he's a dalit (the contemporary, politically correct term
for untouchable).
"The tension in the play is that he says that he's Gandhi and tries to
convince people who he is so he can reform and do things he couldn't do in
his previous life," explains Rode. "People just think he's crazy … and he
realizes it's no joke. Who would want to follow a dalit?"
There are four levels in the Hindu caste system: Brahmin, Kshatriya,
Vaishya, and Shurdra. However, there is also a fifth, lower level, called
Atishudra – otherwise known as untouchable.
While Gandhi, who was murdered in 1948, believed in the caste system, he was
dedicated to eradicating its unjust social and economic aspects. In the
play, the new Gandhi – after experiencing life in the lowest echelons of
society first-hand – wants to eliminate the caste system altogether.
Although the play doesn't vilify Gandhi, the director knows his portrayal
might miff some people.
"There'll be people who are Gandhi devotees and they're not going to like
all the parts. Some of them may be offended … and that's alright," Rode
says.
Rode chose Gandhi's statement about being reborn (in italics, above) to
illustrate that only an oppressed person can genuinely understand what it's
like to be born into such a position.  In his new life, the play's Gandhi character is forced to face experiences even worse than he had imagined. He relates, for example, a memory from his childhood when his father was told to dispose of a dead animal and had to drag it through the village. For payment, he was offered the animal's skin.
"The caste system is the worst form of racism," says Rode, who's penned
eight books of non-fiction and poetry in Punjabi and English, and won
numerous awards.
"In the eyes of the law, they (the untouchable) are equal. But socially,
they're at the bottom."
The play, which takes place May 23, 7 p.m. at the Surrey Arts Centre (13750
88 Ave.) coincides with the Asian Heritage Month Festival, an event
celebrated across Canada annually. Presented by the Chetna (Creating Healthy
Environments Through Networks and Associations) Association of Canada and
the Asian Heritage Month Society, it's hoped the Rebirth of Gandhi will
stimulate discussion about the caste system, which still has a strong hold
in Indian culture.
"If you want to counter something, you have to totally understand what it
is," said Jai Birdi, a Surrey resident and Chetna president. "It (the play)
will force people to face it."
"Half of the Lower Mainland is Asian, and I think it's important to share
our experiences," added Imtiaz Popat, artistic program coordinator the Asian
Heritage Month Festival.
***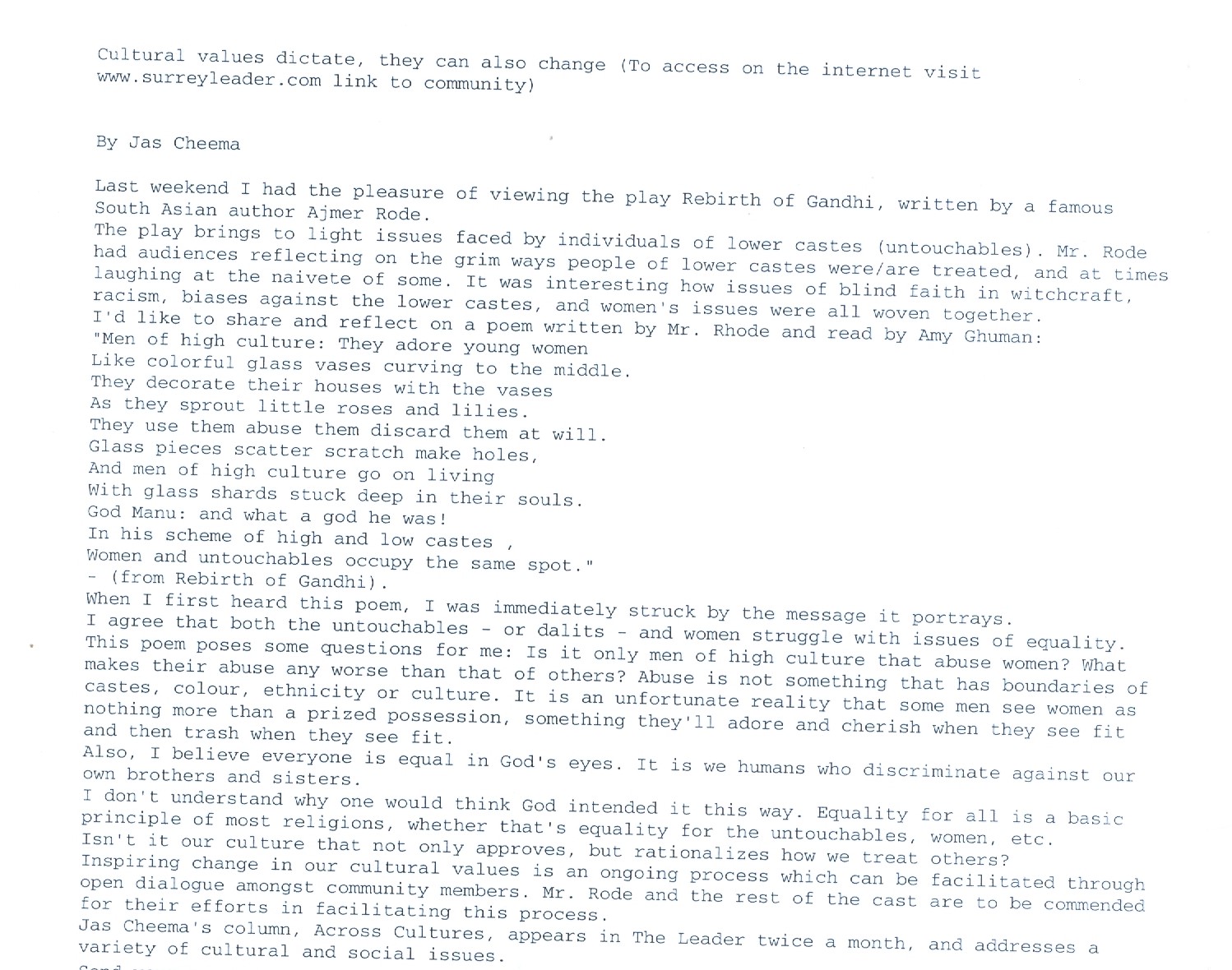 ***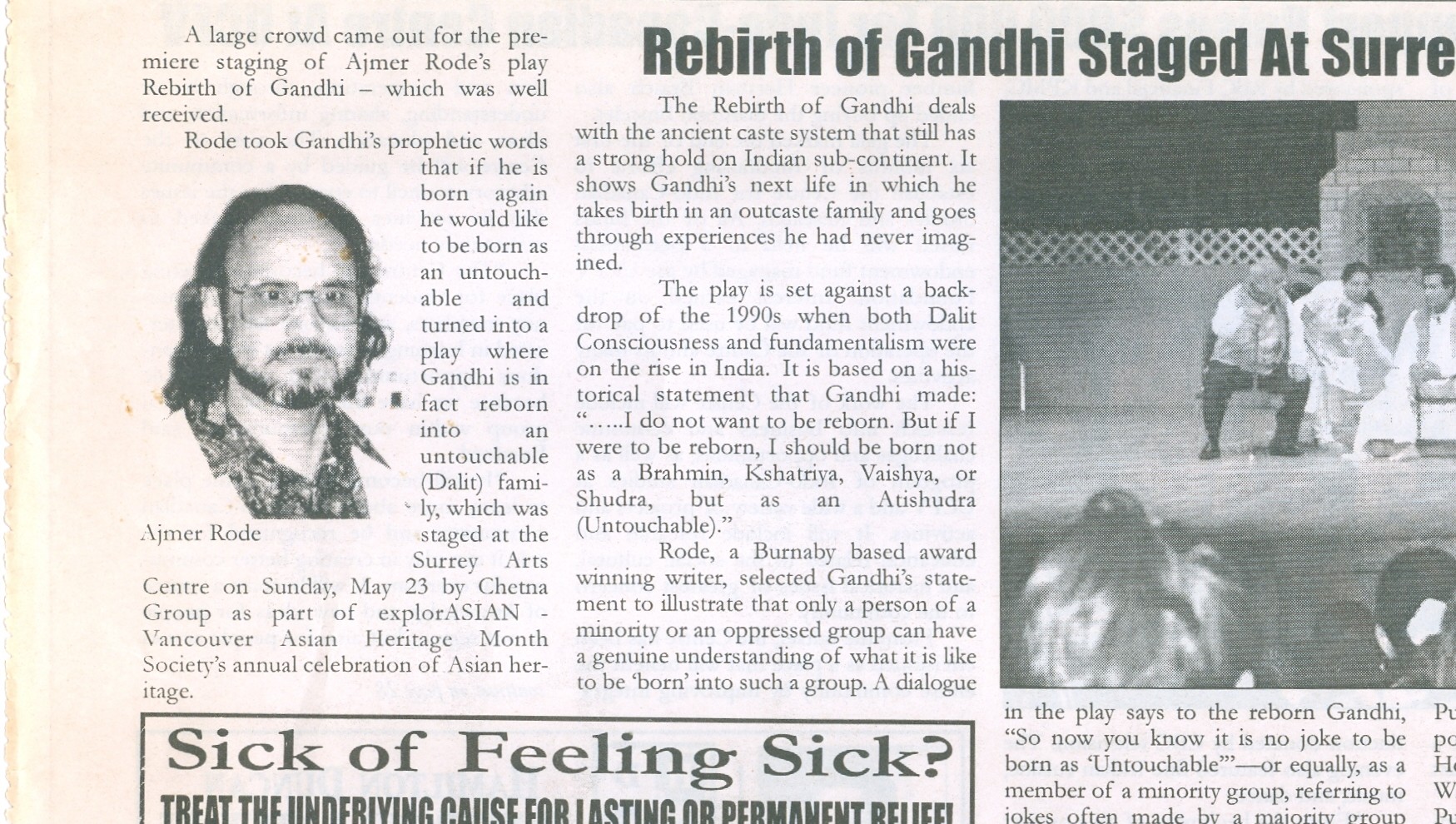 ***
Rehearsals and Performance pictures