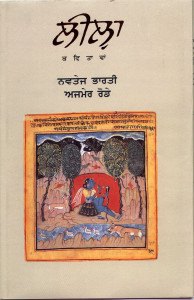 A book of poems in Punjabi
by Navtej Bharati and Ajmer Rode
pages 1053
Rainbird Press, Vancouver, London (UK), 1999
"The Jury especially underlined the significance of their path breaking work, Leela, which runs over a thousand pages and remains unparalleled in the history of Punjabi literature for its courage to explore and experiment… …".   "Leela has been aptly described as a book of epic dimensions, one of the most important poetry books of the twentieth century, and an all-time classic."–Anād Foundation jury of scholars on awarding Leela, Delhi, 2010.
"The all-time Punjabi classic Leela written by two brothers, Navtej Bharati and Ajmer Rode, has come up for public discussion once again" –Amrita Chaudhry in Indian Express, 2009
"Ajmer Rode and Navtej Bharati are two of the world's most acclaimed Punjabi poets" – Shelagh Rogers, host of the popular CBC Radio program, Sounds Like Canada, interviewing the authors (2006)
"I feel Leela is one of the most important poetry books of our century. It has a rare power to shake, pierce, and mesmerize you." – Surjit Patar (Dr.), P.A. University
"The publication of Leela is a recent event in Punjabi literature the like of which rarely happens in the history of a language and literature, rare not only because of its unusual size (1053 pages) but also because of its internal poetic structure and experimentation." – Dr. Sutinder S. Noor, Delhi University
"I believe Leela will enthrall Punjabi poetry of the twenty first century the way Lyrical Ballads by Colleridge/Wordsworth enthralled English poetry two centuries ago." – Harinder Mehboob
"Leela has changed the whole idiom of Punjabi poetry. It has presented for the first time an authentic postmodern model for it. This collection has reversed many theoretical notions of Punjabi culture and literature… It will not be possible for new poets to ignore this book." – Panj Darya, a leading bi-weekly
"No critical commentary is capable of appreciating the aesthetic fabric of Leela's cerebral insights…. After more than one reading the critic himself feels his critical faculties unfolding. Very few books posses power of this magnitude; as if Punjabi language was waiting for a book like this for decades."  –Gurbachan (critic)   
 "Leela's poetry inspires writing new poetry. Reading this collection I have written seven new lyrics."  – Dr. Mohanjit
"Perhaps the ultimate complement of one poet to the other is that by reading the other's work he himself feels inspired; Leela has inspired me." –Dr. Ambrish
"The classic power of Leela is evident from the fact that its rebellious themes challenge the market culture of today." – Prof. Kesar Singh Kesar, Punjab University.
"This poetry has drawn such a bold line that it is becoming a hallmark for the Punjabi poetry to come."  –Prof. Amarjit Singh Kang, Kurukashetra University.
"Poetry is considered divine prophecy. It is said that when a poet is in tune with the Creator, he creates poems so beautiful that he later wonders if he was really the one who created them… Leela certainly illustrates the above."  –Kuldip Singh Bedi in Jagbani