MG Vassanji coming to address the Dhahan Prize gala 2016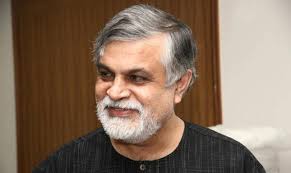 Dhahan Prize is the largest and most prestigious international Punjabi prize awarded annually for three best works of Punjabi fiction. The books written in Gurmukhi and Shahmukhi are considered for the prize, already being praised for creating fraternity among Punjabi authors across India-Pak border. So far the winning authors have been from India, Pakistan, UK and Canada. This year the top prize ($25,000) goes to Toronto based writer Jarnail Singh; the second prize ($5,000) winners are Zahid Hassan (Shahmukhi) and Simran Dhaliwal (Gurmukhi).
One of Canada's most acclaimed novelists MG Vassanji is coming to deliver the keynote speech this year. Among his many prizes and honors are Gillar prize (twice) and a Governor-General's prize; he was made a Member of the Order of Canada in 2005. His speech alone would be worth attending the gala, though, there would be much more, of course, including meeting the winning authors and Dhahan Prize founders and organizers. I urge all Punjabi language lovers, readers and writers not to miss the gala being held on 29 October 2016 at 6:30 pm at the Museum of Anthropology, UBC. For tickets go to galatickets@dhahanprize.com or get them at the door.